Kristján Th. Davíðsson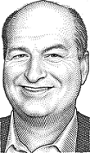 Formal education as Fishing Captain from The Icelandic College of Navigation and Master of Science from Norwegian College of Fishery Science in addition to a range of courses in Management, Finance, Sales/Negotiation/Marketing, IT, Project Management & Communication. Authorized by The Financial Supervisory Authority of Iceland as Board Member of Financial Institutions.
Professional experience ranges from Sales Manager of Seafood & Seafood Processing Technology via Consulting to Management; Executive as CEO of Export, Fishing & Processing Companies and Non-Executive as Board Member/Chairman of fish farming, fishing, processing, exporting, technology, software, supplements & finance industry companies. Speaker at seafood/finance industry conferences, courses and seminars, organized by a.o. IFFO, OECD & FAO. Seafood industry consultant.

Currently CEO of ISDER ehf. & Vidskiptathroun ehf., Icelandic investment & consulting companies. Chairman of the Board of Directors of Valka ehf, an Icelandic company, developing, producing and marketing seafood processing technology. Member of the Board of Directors of Margildi hf, an Icelandic company, developing, producing and marketing fish oil from pelagic fish, rich in stearins, by way of a new (patent pending) refining technology. Member of the Board of Directors of OliVita AS, a Norwegian health supplements company. Advisor to the Board of Directors of Arctic Prime Fisheries  Apf. & Arctic Prime Production Apf., fishing and fish processing companies in Greenland. Chairman of the Board at SOS Childrens Villages, Iceland. Representative in Iceland for NASF, a Norwegian Seafood Industry Conference Forum.
Honorary Consul of The Federative Republic of Brazil in Iceland.
(Thanks to artist Bill Hallinan for his kind permission to use the profile picture he made for this Wall Street Journal article: http://www.wsj.com/articles/SB122359763876821355)
Detailed CV is available upon request.
Google me here
My current engagements:
Should you think I might be of assistance to you I am always open to adding new experiences.
With >25 years of sales/marketing, finance, management (both executive and non-executive), in or in close connection to the international seafood industry I am currently engaged as independent board member, consultant/advisor and speaker at courses & conferences.
Having travelled and done business in around 50 countries around the globe I have an extensive network in the seafood & finance industries in Europe, the Americas & Asia.
You are welcome to contact me!